Getting Started — Your First Visit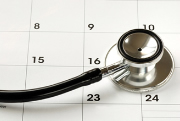 Before treating your symptoms you will need to see a doctor for a consultation. During that visit we we will go over your symptoms with you, decide if a Venous Ultrasound Test is needed and determine your best treatment options. Proper diagnosis and treatment — particularly for the restrictive and painful symptoms associated with varicose veins and venous reflux disease — can have many benefits. Whether you are someone who enjoys a more active lifestyle or not, treatment can improve circulation, and eliminate the discomfort and limitations associated with venous reflux disease. Of course, an added benefit is that your legs will look a lot better.
Course of Treatment Plan
Depending on the results of your physical examination, Dr. Forman will prescribe a treatment plan best suited to your condition. Your course of treatment includes a follow-up appointment with the doctor for each procedure.
Varicose Vein Diagnosis & Treatment
For varicose veins, a Venous Ultrasound may be performed. Treatment may include: Endovenous Radiofrequency Ablation (aka Radiofrequency Thermal Ablation, RFA, ClosureFast™ , VNUS Closure, Venefit Procedure) and/or Microphlebectomy. Another option may be the new VenaSeal Closure Procedure, which uses a medical adhesive to close off diseased veins rather than thermal energy.
Spider Vein Diagnosis
For spider veins, a venous ultrasound may or may not be required. Typically, spider veins are treated by Sclerotherapy.
Other
Chronic Venous Insufficiency, Superficial Vein Thrombophlebitis, Venous Ulcers, Chronic Edema, once diagnosed, each condition will be treated according to specific patient needs.
Insurance? What can I expect?
When performed for medical reasons, varicose vein treatment and other more progressive forms of vein disease are covered by most insurance companies (covered procedures may vary). The removal of spider veins, usually done for cosmetic reasons, is not generally covered by insurance. You will want to check with your insurance company to determine which treatment options are covered under your plan.
When you make an appointment to see us, we can help you check the extent of your insurance coverage in advance of your visit.